Amici's Pizza Café is a collaboration of Southern Italian cuisine and brick oven pizza that has become a local's favorite. From a Margherita Pizza to Shrimp & Grits, any dish you order from Amici's will tickle your taste buds. Amici's is family friendly and tons of fun for corporate get-togethers.
Plus, monthly Wine Dinners that feature off-menu cuisine, make Amici's the perfect place to make the ordinary extraordinary.
GO: 157 East Washington Street, Downtown Suffolk CALL: (757) 923-5300
Baron's Pub is nestled at the corner of one of Historic Downtown Suffolk's most happening areas. Yep, we'll know your name, but we'll also know that when you've tasted our signature Baron's Burger—we're he best burger in town—or you enjoy some of our juicy scallops or oysters, that you'll know our name.
Stop by and have lunch or dinner with us. Enjoy one of our many craft beers on draft or in bottles and experience a feeling that only the birthplace of Mr. Peanut could offer. After all, you may just spot our local famed legume when you visit. Cheers!
GO: 185 North Main Street, Downtown Suffolk CALL: 757-934-3100
"Upscale Southern cuisine in sleek digs". Harper's Table invites you and your guests to dine among an alluring blend of architectural elements. A canopy of vintage pine reclaimed from the old Suffolk Peanut Company warehouse combines with concrete and steel beneath high ceilings to ignite the senses and elicit a crisp cosmopolitan style. When the food hits the table guests are presented with fare that is unique and unmistakably Southern. Diners explore a menu showcasing local produce at its peak, freshly caught seafood from the Atlantic Coast, and the highest quality meats from nearby farms. No visit is complete without trying Harper's Pork Belly Biscuit. A carefully selected list of unique and affordable wines, best quality spirits, craft beers and handcrafted cocktails are certain to highten your visit. An evening of sublime refreshment culminates with a staff invested in the art of genuine hospitality. The team at Harper's Table strives to create unforgettable hospitality following our motto: every guest, every table, every time.
GO: 122 North Main Street, Downtown Suffolk CALL: 757-539-2000
Holland's Country Gourmet
Nansemond Brewing Station
From the very second you walk into our tasting room you will experience our unique atmosphere, and immediately you will hear one of our friendly bartender greet you with a smile and say "Hello. Welcome to Nansemond Brewing Station." All of our customers are free to roam around and check out our amazing tasting room, play games, and even check out the local artwork on our tables. Care to sit outside? You are more than welcome to check out our relaxing outdoor seating area and really begin to soak up Suffolk and experience what it has to offer.
GO: 212 East Washington Street, Downtown Suffolk CALL: 757-533-1173
Now serving breakfast, lunch, and dinner – all day. All menu items are subject to availability – get in early to claim yours. Reservations are strongly encouraged and appreciated for parties of 5 or more. To be sat, we do require all members of the party to be present.
GO: 115 North Main Street, Downtown Suffolk CALL: 757-923-9740
Pourfavor, Downtown Suffolk's only craft coffee house, is located behind the World Class Realty office, between the car wash and the Tea house, by the Seaboard Train Station. The shop is located in the Luke House for the Suffolk natives that know the history of the old houses in downtown.
GO: 347 North Main Street, Downtown Suffolk CALL: 757-374-1030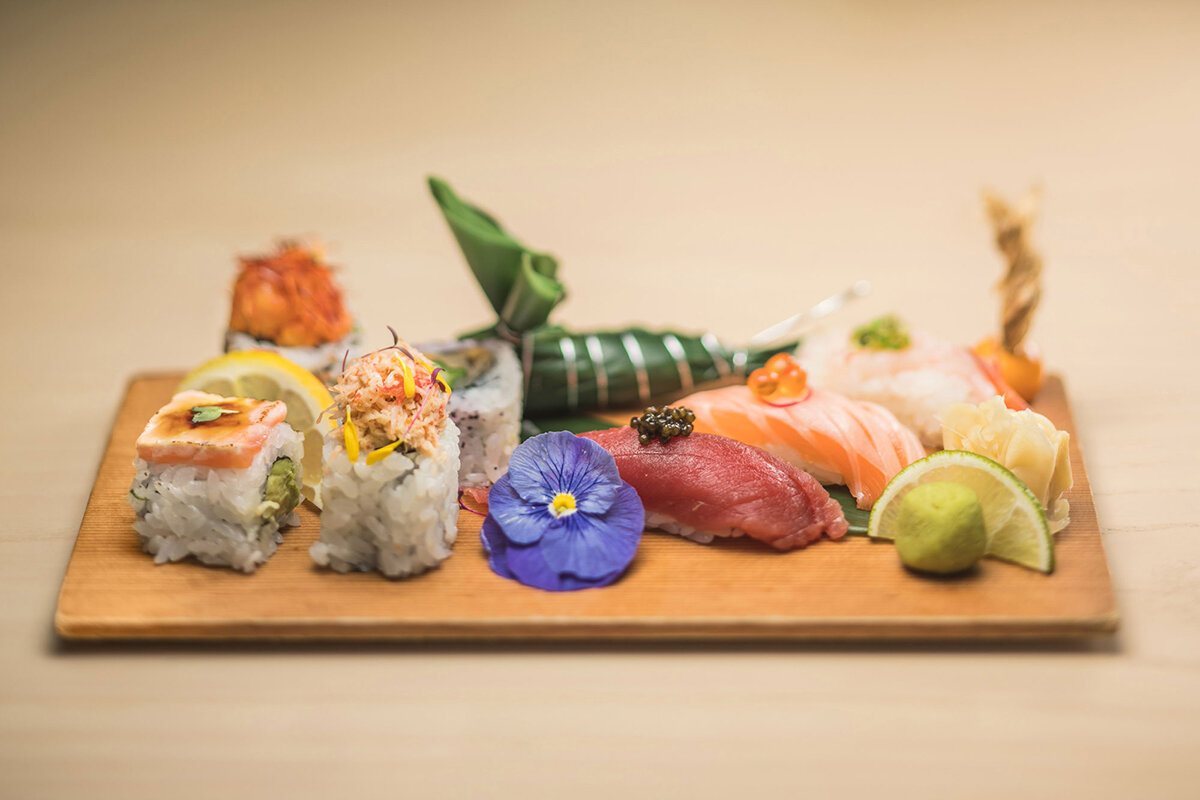 The fish served here at sushi aka is from all over the world. combined with the natural freshness of vegetables grown right here in our city helps makes the dishes served at sushi aka to explode with freshness and taste. sushi aka does not order from food distributor. Sushi aka buys seasonal ocean dwellers and only the freshest will pass the test. Come get fresh!
Every vegetable that is served with the fish that arrive here from all over the world is nurtured right here in our city. Imagine the crispness and freshness that only hand-pulled, natural ingredients taste when accompanying your favorite sashimi and sushi. Using a 1-acre plot and in-ground farming with no hydroponics, 98% of all vegetables served at sushi aka are true in-ground, farm-to-table freshness. the other 2% come from the controlled greenhouse that is locally owned and operated. Sushi aka vegetables are handpicked fresh every other day ensuring that every dish you eat here busts with flavor and crispness. This method allows sushi aka to maintain a diverse menu of seasonal fruits and vegetables including micro greens, tomatoes, cantaloupes and pumpkins.
GO: 116 West Washington Street, Downtown Suffolk CALL: 757-923-1160